I love cute things, a great bargain and quality goods. Unfortunately it's really difficult to find shoes that hit all three of my criteria (read my lolita shoe review!), but recently I've had amazing luck and purchased an adorable pair of shoes from Taobao that are sure to delight you as well.
Let's Shop!
First of all, I have to mention that these shoes are a replica from Dream V which look really similar to a pair that Liz Lisa released last year. You can view the Dream V and Liz Lisa shoes on the bottom of the page for a comparison.
Although I have purchased replica goods in the past, I not longer support replica handbags or clothing. Shoes on the other hand, I go through like tissues. In Shanghai, I walk
a lot
and my shoes easily get beat up and broken, so I don't want to spend a ton of money on them. But this post is not a replica debate (and I don't want to start one). Here is just an honest review of some shoes I recently purchased.
Item information
Heel Height: 5-8 cm (with a platform)
Material: PU (synthetic leather)
Price: 95
Sizing: Japanese
Link:

here
Quality
Unlike many of the shoes I've purchased on Taobao, these shoes did not reek of glue or chemicals which was an immediate relief.
The soles are obviously glued on and are not adhered by nails. After several months of wear, I haven't had any problems with the soles coming unglued! The gold caps on the laces are still intact and they have stood up to the test of city living.


Details
These shoes are so cute! I love the tiny hole punches and the scalloped edge design. The gold shoelace caps are also really lovely and add give these shoes an appearance of costing way more than they did.
Comfort
First, I must mention these shoes are a little bit heavier. If you've ever worn "creepers" like the ones by T.U.K you'll know that platforms are heavy bottomed shoes and do weight a bit. These shoes can certainly be worn all day without any trouble once you become
accustomed
to the weight of the shoes, but if you will be walking a lot, I found I did get a bit more tired in these shoes than other platforms.



Shop Review
This shop shipped

incredibly

fast! Two days after I placed my order they arrived at my doorstep. The shipping fee was also fairly priced and I really can't say anything bad about this shop. They've won my

confidence

and I will be buying from them again!





Final Thoughts
These shoes are a big win for me! I absolutely love them and the shop was super quick and easy to deal with. If you live in Shanghai, I recommend these shoes. However, international buyers must be aware that they are a bit heavy so shipping will cost you more.
Here are the Dream V shoes. As you see, they are exactly like the ones on Taobao. If you are interested, the Dream V link is below.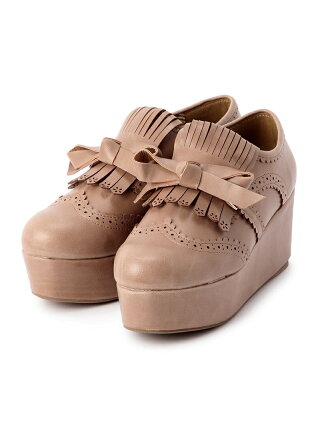 My favorite brand, Liz Lisa, also released a similar shoe. I tried these on in store, but they were sooo heavy and awkward to walk in. If you love them, you can still find them on rakuten.
I hope you enjoyed this review. I have a huge back log of reviews that I'll be posting soon, so be sure to subscribe and check back weekly!